Awarded Honorable Mention ~ Fiction Category 2016 New England Book Festival
Received Gold Book Award from Literary Titans 2017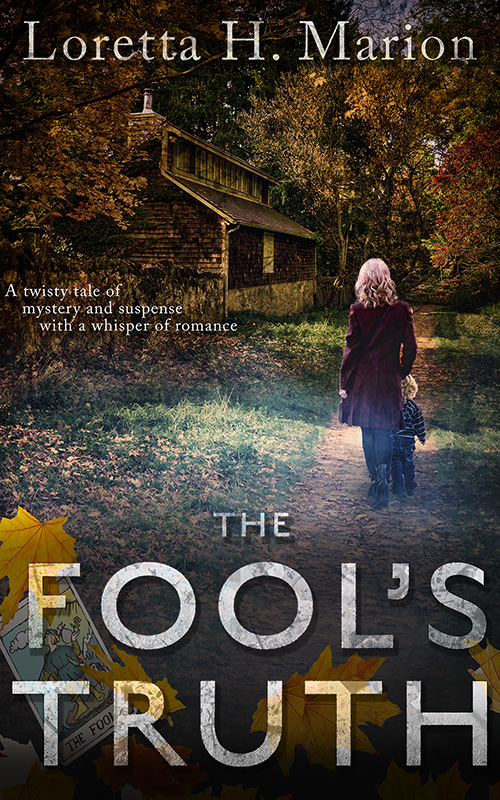 Buy now!
 Loretta Marion's debut novel is a twisty tale of mystery and suspense…with whispers of romance.
FIVE STARS from Literary Titans Reviews!
"Murder and mystery with shimmers of romance are all the delectable things that Loretta H. Marion has to offer with her tantalizing tale The Fool's Truth…At times breath-taking and other times heart-pounding a true mystery lover will not want to let The Fool's Truth pass them by."  
To read the entire review check out the December 2nd post: https://literarytitan.com/
"Deftly paced and richly imagined, The Fool's Truth combines elements of traditional mystery and romantic suspense. With its evocative setting deep in the Maine woods and its intriguing cast of well-developed characters, Loretta Marion's tale of old love, present danger, and small town secrets will capture the reader. Fans of Barbara Michaels and Kate Morton—take note!"
Rosie Genova, National Bestselling Author of The Italian Kitchen Mysteries (NAL/Penguin)
"I could not put down The Fool's Truth – it was lively and engaging, with truly memorable characters and plenty of plot twists. I hope to read more from Loretta Marion!"
 Nina Sankovitch, Author of Tolstoy and the Purple Chair: My Year of Magical Reading
"The Fool's Truth by Loretta Marion of Bristol is a mystery/thriller with a touch of romance. When Cordelia flees her abusive husband, taking her toddler daughter with her, she is aided by old friend (maybe more?) Ramon Alvarez. But her trip north is interrupted in Murphy, Maine, where she has car trouble. This is one of those books where you don't want to give too much away. All of the characters have a touch of mystery or hidden pasts, except the sleazy English tabloid journalist, now the editor of the Murphy newspaper, who is just what he seems.
Each chapter is introduced with an apropos quote from the teachings of Buddha, Sherlock Holmes stories, Shakespeare or authors commenting on journalism. The plot clips right along and you're not quite sure what will happen next. It's a very enjoyable read."
Lynda Rego, East Bay Life, East Bay Newspapers, November 2016
THE FOOL'S TRUTH is a twisty page-turner, expertly blending mystery, danger and suspense with the alluring possibility of romance from a once unrequited love.
On the run and desperate to flee the country with her toddler daughter, Cord Richmond can only turn to one person for help – lifelong friend and once lover, Ramon Alvarez. Their reunion reawakens long suppressed feelings, but once again their timing is off as they must hastily chart a course for her escape.
A reckless detour in those carefully laid plans leaves Cord stranded in the backwoods of Maine, hidden by a hermit weaver living off the grid. With no means of communicating with the outside world, the need to craft a new plan intensifies when the peculiar woman takes an obsessive interest in her daughter.
Complicating matters further are the local sheriff and a nosy reporter, both with ambitions for uncovering the truth, each with his own private reason for taking refuge in the remote rural village of Murphy, Maine. She contemplates a risky strategy to flee her confinement, but is she desperate enough to enter the depraved world of a recently paroled convict with a history of brutality?
Cord's folly is the catalyst for dark secrets unraveling, placing her and her daughter in grave danger. She deeply regrets having lied to the one person who might be searching for her. Meanwhile, Ramon seeks to resolve the unsettling truths Cord has concealed from him. If only he could find her.
Time At Last Books
Cover Design by Streetlight Graphics